Tritest High Quality Injection Semi-Finished Steroid Hormone Tri Test 300
Tritest High Quality Injection Semi-Finished Steroid Hormone Tri Test 300
1.0 USD
Payment Terms:
Bitcoin, WU, Money Gram, T/T
Place of Origin:
Shanghai, China (Mainland)
Means of Transport:
Land, Ocean, Air
Production Capacity:
500kg/month
Packing:
Discreet packages
Delivery Date:
About 4~8 working days
Package:
Discreet Packages
Delivery Time:
Within 24 hours after confirming the payment
Product Description
Leading Time:
About 5~8 working days
Usages:
Pharmaceutical Raw Material
WhatsApp:
+86 18918454969
Certificates:
ISO9001,KOSHER,GMP
Reship Policy:
About 60% reship
Recipe for Tri-Test 300 :
180mg/ml Test Enanthate
90mg/ml Test Phenylpropionate
30mg/ml Test Propionate
More about Tri-Test 300
Tri-Test 300 contains Three esters of Test, One Fast, One Medium acting and One Long acting : Test Enanthate, Test Phenylpropionate and Test Propionate.The New Tri-Test 300 is a new and inovative product developed as a superior substitute to Sustanon 250.
Tri-Test 300 description and application
The T-Propionate is faster acting than other test esters, it is used for quick strength and muscle mass gains.
Test Phenylpropionate is very similar to propionate but has a half life of 3 – 5 days, making it a medium acting ester and one which will promote fast mass and strength gains.
Test Enanthate is a long-acting depot steroid that is used for ultimate mass and size gains, some consider it the best test available . Depending on the metabolism and the body's initial hormone level it has a duration of effect of two to three weeks so that theoretically very long intervals between injections are possible.
Test prop 100mg/ml
Test e 250mg/ml 300mg/ml 400mg/ml 500mg/ml
Test cyp 200mg/ml 250mg/ml 300mg/ml
Sustanon 200mg/ml 250mg/ml 300mg/ml 400mg/ml
Deca 200mg/ml 250mg/ml
Equipoise 200mg/ml 300mg/ml
Tren ace 100mg/ml 200mg/ml
Tren en 100mg/ml 200mg/ml
Masteron 100mg/ml 150mg/ml
Winny 50mg/ml
Primobolone 100mg/ml
Supertest 450mg/ml
Anomass 400mg/ml
Ripex 225mg/ml
Tritren 180mg/ml
Tri Test 300mg/ml
Tri Deca 300mg/ml
Test Blend 450mg/ml
Test Blend 500mg/ml
Nandro Test 225mg/ml
Mass 500mg/ml
Cut Depot 400mg/ml
Tren Test 225mg/ml
Nandro Test Depot 450mg/ml
Equi Test 450mg/ml
Rip Cut 175mg/ml
Tren Test Depot 450mg/ml
Usage of Tri Test 300 :

180mg/ml Test Enanthate
Test enanthate is currently the most widespread and the most popular steroid because it is effective and cheap. Large dosages are affordable. Usually, they come in 10 ml vials.

A beginner can safely and effectively begin from 250mg every week , while the upper range can go around 1000 mg . In one study , it was found that 600 mg per week produced much better results than the administration of a lower dose . However , it needs to be cautioned that the dose is dependent on several factors and your doctor is the best person to recommend the appropriate dose suitable for you .

Most people have found that a dose within 500 mg to 1000 mg is sufficient enough to build tons of muscles in their body. However, if you are going to use over 500 mg of test per week, you must weigh the risk factors in consultation with your private clinician.
90mg/ml Test Phenylpropionate
Most bodybuilders/athletes administered test phenyl propionate twice a week or every two other days. The preferable dose for male is 300mg- 3000mg/ week. Female sportsmen are not recommended to use this drug because of side effects that may occur.
The side effects of test phenyl propionate are less than all the test esters, here are some of them: virilization, increased body/facial hair.
30mg/ml Test Propionate
The most common dosage schedule for this compound (men) is to inject 50 to 100mg , every day or 2nd day. As with the more popular esters, the total weekly dosage would be in the range of 300-700mg. As with all test compounds, this drug is most appropriately suited for bulking phases of training. Here it is most often combined with other strong agents such as Dianabol, combinations that prove to work quite well. Propionate however is sometimes also used with nonaromatizing anabolics/androgens during cutting or dieting phases of training, a time when it's fast action and androgenic nature are also appreciated. Popular stacks include a moderate dosage of propionate with an oral anabolic like Winny (15-35 mg daily), Primobolan (50-150mg daily) or oxandrolone (15-30mg daily). Provided the body fat percentage is sufficiently low, the look of dense muscularity can be notably improved (barring any excess estrogen buildup from the test). One could also add a non-aromatizing androgen like trenbolone or Halotestin, which should have an even more extreme effect on subcutaneous body fat and muscle hardness. Of course with the added androgen content any related side effects will become much more pronounced .
Our advantages:

1, High quality with competitive price:
1) Standard:BP/USP/EP/Enterprise standard
2) All Purity≥99%
3) We are manufacturer and can provide high quality products with factory price.

2, Fast and safe delivery
1) Parcel can be sent out in 24 hours after payment.Tracking number available
2) Secure and discreet shipment.Various transportation methods for your choice.
3) Customs pass rate ≥99%
4) We have our own agent/remailer/distributor who can help us ship our products very fast and safe,
and we have stock in there for transferring.

3,We have clients throughout the world.
1) Professional service and rich experience make customers feel at ease, adequate stock and fast delivery meet their desire.
2) Market feedback and goods feedback will be appreciated, meeting customers's requirement is our responsibility.
3) High quality,competitive price,fast delivery ,first-class service gain the trust and praise from the customers.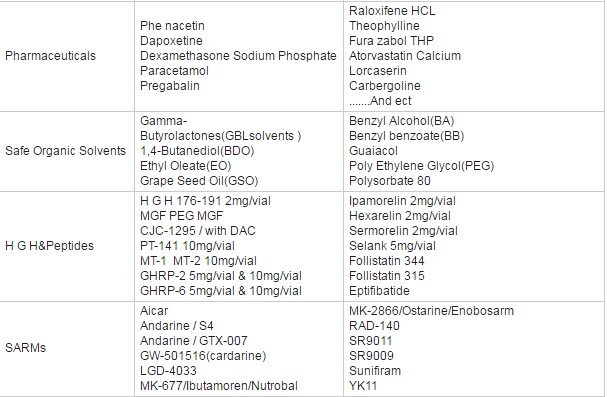 ---
---